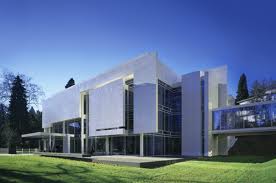 Lichtentaler Allee 8b
76530 Baden-Baden
Deutschland


.
Die international renommierte Sammlung Frieder Burda konzentriert sich auf die Kunst der Klassischen Moderne und der Zeitgenossenschaft; sie umfasst inzwischen fast 800 Gemälde, Skulpturen, Objekte und Arbeiten auf Papier.
.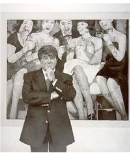 Frieder Burda, geboren 1936 im badischen Gengenbach als zweiter Sohn des Verlegers, Druckereibesitzers und Senators Dr. Franz Burda, verbrachte Kindheit und Jugend in seiner Geburtsstadt. Nach seiner Schulzeit in Offenburg und in der Schweiz absolvierte Frieder Burda eine Drucker- und Verlagslehre.
.
Die Faszination der Farbe und der emotionalen Ausdrucksqualitäten von Malerei stehen für den Sammler im Zentrum seines Interesses an der Kunst.
.

.


.

NAAR BOVEN


.
.
Porträt Frieder Burda

The new gallery, situated on the town's famous avenue, the Lichtentaler Allee, housing the Museum Frieder Burda , is a sparkling new jewel in the Baden-Baden crown. The building itself is outstanding; a naturally lit museum, designed by the famous New York architect, Richard Meier.
.
. And the collection within also hosts its fair share of masterpieces, among the 500 paintings, sketches, sculptures and objects, which trace the history of art over the past 100 years.
A part of the collection focuses on Classical Modern art, with works by German expressionists such as Max Beckmann, Ernst Ludwig Kirchner and August Macke.
.


There is also a selection of late works by Pablo Picasso. American abstract expressionism is also featured with action paintings by Jackson Pollock, and meditative works by Clyfford Still and Mark Rothko. The core of the collection, however, centers around German post war artists, such as Georg Baselitz, Sigmar Polke and Gerhard Richter

Opening times:
Tue-Sun 10am-6pm
Wednesday 10 am - 8pm
24 & 31 December: closed
Please remember: Between exhibitions the Museum Frieder Burda is closed
.
Museum Frieder Burda
Lichtentaler Allee 8b
76530 Baden-Baden
Deutschland



.
Telefon +49 (0) 7221 398980
E-Mail Dit e-mailadres wordt beveiligd tegen spambots. JavaScript dient ingeschakeld te zijn om het te bekijken.
Internet www.museum-frieder-burda.de

ZURUCK

NACH OBEN